Goldengrove

Lore Details:

Warp:
/warp goldengrove
Location:
The Reach
House:
House Rowan
Type:
Castle

Construction Details:

Started:
N/A
Project Lead:
Fplattel
Project Type:
Private
Project Status:
Work in progress
Short description...
Gallery
Features
Construction
...
Inspiration
...
Video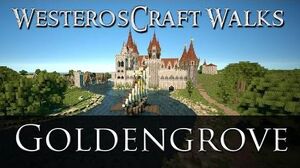 Golden Grove was featured in Episode 56 of WesterosCraft Walks. DutchGuard spends nearly forty minutes exploring this massive castle.
Ad blocker interference detected!
Wikia is a free-to-use site that makes money from advertising. We have a modified experience for viewers using ad blockers

Wikia is not accessible if you've made further modifications. Remove the custom ad blocker rule(s) and the page will load as expected.