English
The following describes a number of common issues and the solutions to them. Following rules apply:
Read this page carefully before heading to the forums to ask for help.
Try each and every solution posted before heading to the forums.
If you have to ask for help on the forums, use the Support Subforum.
Do not ask for tech support via IRC or the Dynmap.
Always include as much information in your post as possible. Always include the launcher log using a pastebin.
Requests failing to post sufficient information will be ignored and/or deleted.
See here if you're using the Technic Launcher or the standard Minecraft Launcher.
"Why can I not connect to mc.westeroscraft.com?"
You cannot join the server using the normal Minecraft launcher. To enter you need to use our custom-built launcher, which allows us to implement a number of modifications to the game.
Simply download the Launcher and follow the installation steps as described there. The launcher will automatically choose the appropriate minecraft version, texture pack etc., set everything up for you and directly connect you to the server.
"What do I do if the game is out of date?"
Your version is not up to date with the server and you need to update the launcher. Simply hit the Update button, wait for the update to finish and try launching again. Rarely, it doesn't update all files correctly and you need to go through the update process a couple times before it works.
"How do I launch the game?"
On the lefthand side of the launcher select the Westeroscraft Production Server When prompted, enter your minecraft credentials, so the same e-mail address and password you use to log into regular Minecraft.
"What do I do if the connection times out?"
If you cannot reach the server, make sure you are connected to the internet and that Java is not blocked by your antivirus or firewall.
As a server we depend on both the Minecraft infrastructure and our server hosts. Contact Mojang to see if the session and login servers are down. If the server is down due to maintainance on our or our server host's side we will inform you via the forums. In either way, be patient, we will be back as quickly as possible.
"How do I get whitelisted on the server?"
You do not require to be whitelisted to join WesterosCraft, everyone is welcome to visit at any time, as long as you have a valid Minecraft account.
Very rarely we have to whitelist for maintenance issues. If that is the case, refer to our Website and Forums for status updates. And again, please be patient.
"What if I can not start the launcher?"
The launcher requires you to download the latest and correct version of the Java Runtime Environment in order to work correctly. If you can't even start the launcher, or if the launcher fails to start the game, you're most likely not using the correct version.
"I can connect but I lag really badly, what can I do?"
Not using the correct version of Java may lead to performance issues. Make sure you're using the most recent, 64bit version of Java.
If you're using a Laptop you might accidentally use your built-in graphics card instead of the better, additional one. Make sure Java programs are set to use the better GPU by default. Refer to your graphics card's manual.
"Why do I keep crashing from the server?"
Not using the correct version of Java may lead to crashes. Make sure you're using the most recent, 64bit version of Java.
In rare cases, server issues may lead to crashes. If that is the case it's likely that we are already aware and working on resolving the issue as quickly as possible.
"How do I know I'm not using the correct version of Java?"
Your launcher gives you a detailed overview of what it's doing under the Log tab. If something goes wrong this is the place to look first.
The easiest way to find out which Java version the launcher is using is to copy the log into a text file and to search for the "launch args".
If you are using a 32bit version of Java, you will find the following line:
"C:\Program Files(x86)\Java\jre1.8.0_xxx\bin\javaw.exe" ("xxx" = version numbers, e.g. 101)
In this case the game may not launch, or you may experience performance issues or crashes.
64bit Windows systems are by default set to install 32bit software under C:\Program Files(x86)\... while they install 64bit software at C:\Program Files\... If you're using a Java version installed at the former location, it means that it is a 32bit program, which will most likely lead to issues with our launcher.
"Where do I get the correct version of Java from?"
The most recent Java download can be found on the oracle website .
The version you want to pick is Windows x64 Offline: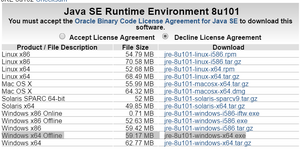 If you're using a Mac, download the OSx version.
"I've installed the 64bit version, but the launcher is still not working!"
You may have installed the correct version, but the launcher needs to be told about this, as well. Currently, it is still pointing at the same place as before, so you've got to tell it where to look for.
Change the Java Home Path. On the settings menu there is a field labeled Java Home Path. On the same line to the far right, click the browse button. Once that's open navigate to your Local Disk (C Drive), then go into Program Files, and then to Java.

Once in the java folder, you need to select the most recently downloaded Runtime Environment. The folder will be named jre1.8.0_xxx (91 in these images.)

Once it's selected hit select and then save. The launcher should now point to the correct Java version.


"The game crashes and I found something about a heap size in the log, what do I do?"
The error message reads:
'Error occurred during initialization of VM. Initial heap size set to a larger values than the maximum heap size'
This may occur when previous Java installations set enviroment variables which are no longer needed. Please check out this post for more information.
"I made sure Java is up to date, but it's still not working. Is there anything else I can do?"
The launcher was probably not able to download and set up everything correctly. This may, for instance happen if you have a weak internet connection.
As a general approach a soft reset of the launcher can solve some common problems.
Hitting the Windows-button (between ALT and CTRL) and R simultaniously prompts the execute tab
Enter %appdata% and hit enter.
Find the WesterosCraft folder
Delete the WesterosCraft folder. Make sure you made backups of screenshots and similar before doing this!

"Can I assign more memory to improve performance?"
Yes, you can. Under settings you will find these:
Min Memory: 512M
Max Memory: 1G

You may increase those values for better performance if your hardware has more memory.
"What do I do if I was banned from the server?"
You've potentially broken one or more of our Rules. You are potentially allowed to appeal via our forums.
"Do I need to purchase Minecraft in order to play WesterosCraft?"
Yes.
"What do I do if it's still not working?"
Post your problem on our Support Forum, but read the submission rules first.
Deutsch
Diese Seite beschreibt eine Anzahl and üblichen Problemen und die jeweiligen Lösungen dafür. Bitte beachte die folgenden Hinweise:
Bevor du im Forum um Hilfe fragst, lies diese Seite bitte aufmerksam durch.
Probiere jede Lösung bevor du um Hilfe fragst!
Falls keine der Lösungen hilft, wende dich bitte an unser Support Subforum.
IRC und Dynmap chat sind nicht da um nach Hilfe zu fragen.
In deinem Post auf dem Forum, gib uns bitte so viele Informationen wie möglich. Füge das Launcher Log in Spoiler Tags oder als pastebin in deinen Post ein.
Anfragen ohne genügend Informationen werden ignoriert und/oder gelöscht.
Für Probleme mit dem Technic Launcher oder dem standard Minecraft Launcher folge bitte den entsprechenden Links.
"Warum kann ich mich nicht direkt mit mc.westeroscraft.com verbinden?"
Ohne Modifizierung kannst du den normalen Minecraft launcher nicht benutzen um dich mit WesterosCraft verbinden. Am einfachsten ist es unseren eigenen WesterosCraft Launcher zu benutzen. Wir benutzen einen solchen eigenen Launcher, um unsere Mods zentral zu verwalten und Änderungen unabhängig durchsetzen zu können
Lade den Launcher einfach herunter und folge den Schritten zur Installation. Der Launcher wählt automatisch die richtige Version von Minecraft, unser ResourcePack, macht alle notwendigen Einstellungen und verbindet dich automatisch mit unserem Server.
"Was mache ich bei 'Your version is not up to date with the server'?"
Nach Updates zu unseren Mods oder dem ResourcePack kann es vorkommen dass die Version des Launchers nicht mit der des Servers übereinstimmt. In diesem fall klicke einfach den Update Knopf, warte bis das Update heruntergeladen und installiert ist und versuch es noch einmal. In seltenen Fällen kann es sein das manche Mods nicht korrekt heruntergeladen wurden und das Spiel nicht gestartet wird. Probiere es einfach noch einmal.
"Wie starte ich das Spiel?"
Klicke auf der linken seite des Launcher Fensters auf das Icon für den Westeroscraft Production Server. Gib dieselbe Email-Adresse und Passwort ein, die du auch für das normale Minecraft benutzt.
"Was mache ich wenn die Verbindung abbricht: 'connection timed out'?"
Wenn das Spiel zwar startet aber du dich nicht mit WesterosCraft verbinden kannst, überprüfe zuerst dass du mit dem Internet verbunden bist und das Java nicht von deiner Firewall oder deinem Antiviren Programm blockiert wird.
Wir sind abhängig von der zentralen Minecraft Benutzerverwaltung und von unserem eigenen Server Anbieter, Linode. Es kann sein das eine Verbindung nicht möglich ist wenn Mojang's eigene session and login servers inaktiv sind. Falls unser Server oder Server Anbieter aufgrund von Wartung oder Problemen inaktiv ist, informieren wir darüber auf unserer Homepage und unserem Forum. In beiden Fällen hilft es nur geduldig zu sein. Wir versuchen so schnell es geht wieder online zu sein.
"Wie kann ich in die 'whitelist' des Servers aufgenommen werden?"
Es ist nicht erforderlich auf der Whitelist zu sein um WesterosCraft beizutreten, jeder Benutzer ist jederzeit willkommen den Server zu besuchen, wenn er/sie einen gültigen Minecraft Account hat.
Es kommt selten vor das der Server auf Grund von Wartungsarbeiten eine Whitelist führt. Sollte dies zutreffen informieren wir darüber auf unserer Website und dem Forum . Bitte hab einfach etwas Gedult.
"Was mache ich wenn der Launcher nicht startet?"
Der Launcher benötigt die richtige Version des Java Runtime Environment um korrekt zu funktionieren. Sollte der Launcher nicht einmal starten, hast du höchstwahrscheinlich nicht die richtige Version installiert.
"Ich kann mich mit dem Server verbinden aber das Spiel ruckelt sehr stark?"
Wenn die falsche Version von Java installiert ist kann es zu erheblichen Leistungsproblemen kommen. Versichere dich dass du die aktuellste, 64bit Version von Java verwendest.
Wenn du einen Gaming-Laptop benutzt kann es sein, dass du deine Onboard Grafikkarte anstatt der besseren, externen Graffikkarte benutzt. Versichere dich das Java Programme standardmäßig eingestellt sind die bessere GPU zu benutzen. Beziehe dich hier bitte auf die Angaben deines Grafikkartenherstellers.
"Warum stürzt das Spiel dauernd ab?"
Wenn die falsche Version von Java installiert ist kann es zu unvorhersehbaren Abstürzen kommen. Versichere dich dass du die aktuellste, 64bit Version von Java verwendest.
In seltenen Fällen kann es sein das Probleme des Servers zu abstürzen führen. Es ist sehr wahrscheinlich dass wir uns dessen bereits bewusst sind und so schnell es geht an einer Lösung arbeiten. Wir bitten in dem Fall um etwas Geduld.
"Woher weiß ich dass ich nicht die richtige Version von Java benutze?"
Im Log tab, gibt der Launcher dir einen detailierten Report über alle Warnungen, Fehler und System Einstellungen. Falls etwas nicht so funktioniert wie erwartet ist es wichtig hier zuerst zu schauen.
Der einfachste Weg herauszufinden welche Version von Java vom Launcher benutzt wird ist es das Log in eine Textdatei zu kopieren und dort nach den "launch args" zu suchen.
Wenn du eine 32bit Version von Java benutzt, wirst du eine Zeile ähnlich der folgenden finden:
"C:\Program Files(x86)\Java\jre1.8.0_xxx\bin\javaw.exe" ("xxx" = version numbers, e.g. 101)
In diesem Fall, ist es sehr wahrscheinlich dass das Spiel nicht startet, ruckelt oder abstürzt.
64bit Windows Betriebssysteme sind standardmäßig so eingestellt, dass 32bit Software nach C:\Program Files(x86)\... und 64bit Software nach C:\Program Files\... installiert werden. Falls deine Java Version in dem ersten Pfad (also C:Program Files(x86)) installiert ist, handelt es sich um ein 32bit Program, welches zu oben genannten Problemen mit dem Launcher führt.
"Woher bekomme ich die korrekte Version von Java?"
Die aktuellste Version von Java kann auf der oracle website heruntergeladen werden.
Die erforderliche Version ist Windows x64 Offline: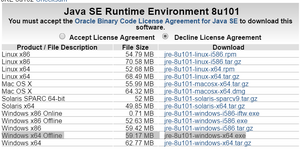 Falls du einen Mac benutzt, lade entsprechend die OSx Version herunter.
"Ich habe die 64bit Version installiert, aber der Launcher funktioniert immer noch nicht!"
Nachdem du die korrekte Version von Java installiert hast, muss nun auch der Launcher so eingestellt werden diese zu benutzen.
Ändere den Java Home Path. In den Java Einstellungen befindet sich ein Feld mit dem Titel: Java Home Path. In der selben Zeile ganz rechts, klick den Browse button. In dem neuen Fenster navigiere dann zu deiner C Festplatte (C:\), und dann zu Program Files, und dann zu Java.

Nun musst du das aktuellste Runtime Environment auswählen, also den Order benannt mit jre1.8.0_xxx und der größten Zahl anstatt von xxx. Im Beispiel unten ist dies 91.

Wähle diesen Order aus, klicke Select und dann Save. Der Launcher sollte nun die korrekte Version von Java benutzen.


"Das Spiel ist abgestürzt und im log steht irgendwas mit 'heap size'?"
Du hast folgende Fehlermeldung bekommen:
'Error occurred during initialization of VM. Initial heap size set to a larger values than the maximum heap size'
Das passiert wenn alte Java Installationen Umgebungsvariablen eingestellt haben die nicht mehr benötigt werden. Folgender post gibt mehr informationen.
"Ich bin mir nun sicher das Java richtig eingestellt ist, aber es funktioniert immer noch nicht. Was kann ich noch tun?"
Bei einer schlechten Internetverbindung kann es sein dass der Launcher nicht alle Mods korrekt herunterladen und installieren konnte.
Die beste Methode hier ist ein soft reset des Launchers.
Drücke die Windows-Taste (zwischen ALT und STRG) und die R-Taste gleichzeitig. Dies öffnet das Ausführen fenster.
Schreibe %appdata% und drücke Enter.
Finde den WesterosCraft Ordner
Lösch den WesterosCraft Ordner. Mach vorher eine Kopie von Screenshots, Texturen, Mods oder ähnlichem!

"Kann ich die Leistung des Spiels verbessern indem ich mehr RAM zuweise?"
Ja. In den Einstellungen des Launchers findest du die folgenden Parameter:
Min Memory: 512M
Max Memory: 1G

Wenn deine Hardware mehr RAM zur Verfügung hat kannst du diese Werte nach belieben anpassen.
"Ich wurde gebannt! Was kann ich tun?"
Du hast sehr wahrscheinlich eine unserer Regeln gebrochen. Du kannst jedoch gegebenenfalls auf unserem Forums eine Anfrage zur Neubeurteilung schicken.
"Muss ich Minecraft kaufen um auf WesterosCraft zu spielen?"
Ja, definitiv.
"Was mache ich wenn ich nun immer noch Probleme habe?"
Starte einen neuen Thread in unserem Support Forum, aber lies vorher bitte aufmerksam die submission rules.
Ad blocker interference detected!
Wikia is a free-to-use site that makes money from advertising. We have a modified experience for viewers using ad blockers

Wikia is not accessible if you've made further modifications. Remove the custom ad blocker rule(s) and the page will load as expected.